Branded Formulations
Mahima Datla
Managing Director & CEO, Vaccines & Branded Formulations
Mahima Datla has been with Biological E. Limited since 2001 and is currently its Managing Director. During this period, she has been involved in project management, building quality systems and driving operations at the company. She engages with Government of India and GAVI on public policy. Mahima has a Bachelor's Degree in Business Administration Management from Webster University, London.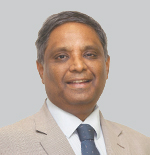 Lakshminarayana Neti
COO, Vaccines & Branded Formulations
Lakshminarayana Neti joined Biological E. Limited in 2013 as President, Operations, Vaccines. He has over 30 years of diverse experience in the pharmaceutical industry. He has worked with the leading pharmaceutical companies such as Abbott, Dr. Reddy's Laboratories Limited and others. He has a Bachelor's Degree in Mechanical Engineering, an MBA in Finance from Manchester Business School & a Postgraduate Diploma in Patent Law.